Market downturns can be particularly painful for clients to endure.
Advisers can play an important role in putting a downturn in perspective.
Long-term investors are typically rewarded for staying invested through turbulent markets.
When global stock markets fall like they have this year, it can be a difficult event for investors to endure. Research suggests that the experience of a loss is psychologically more intense than that of an equally sized gain1, which is why clients will value the guidance and support of their trusted adviser now more than ever.
The truth is market downturns are part and parcel of investing over the long term. Investors that are in it for the long haul will experience several downturns, or bear markets, during their investment journey. A bear market is defined as a market decline of 20% or more lasting at least two months.
Using the MSCI AC World index as a proxy for global stock markets, the chart below shows that since 1980 global stock market investors had already experienced five bear markets by the end of 2021.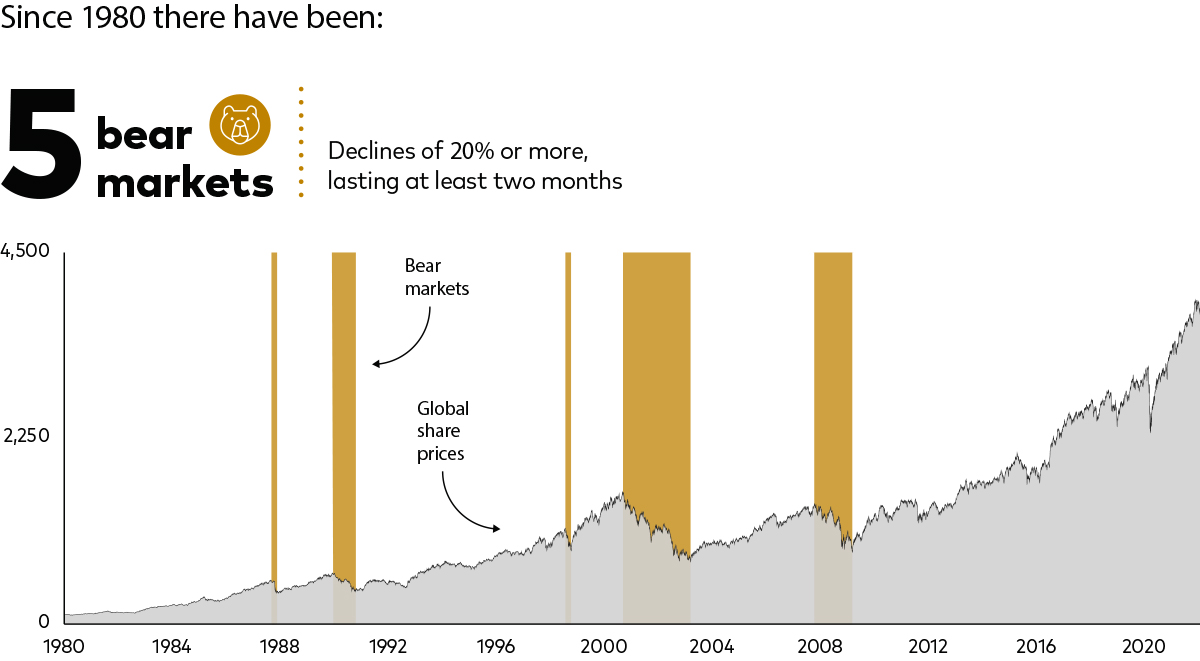 Source: Vanguard analysis as at 31 December 2021, based on the MSCI World Index from 1 January 1980 until 31 December 1987, and the MSCI AC World Index thereafter. Notes: Both indices are denominated in GBP.
In between those bear markets were 16 'corrections' (declines of 10% or more), but that didn't stop global stock prices hitting new heights after each bear market during the period. We think this is a powerful message that highlights the value of staying invested, particularly during periods of sub-par performance.
Some clients might feel the sting of a downturn more than others, depending on their individual circumstances, but it's critical to keep a long-term perspective and stay invested to benefit from the subsequent recovery. Some bear markets since 1980 have been sharp, but many bull-market surges have been even more dramatic. They have often also lasted longer, leaving stock market investors well compensated over the long term for the risk they took on.
Stay invested and the ride the recovery
It might feel counter-intuitive to stay invested in assets that are falling in value, particularly if investors suspect those losses could get worse before they get better. However, withdrawing from markets when things get choppy can mean investors forgo significant gains that would have brought them closer to their investment goals.
The chart below uses US data, but the broad findings we draw from it generally holds across markets – that riding out the rough periods can pay off. The time period shown is for illustrative purposes.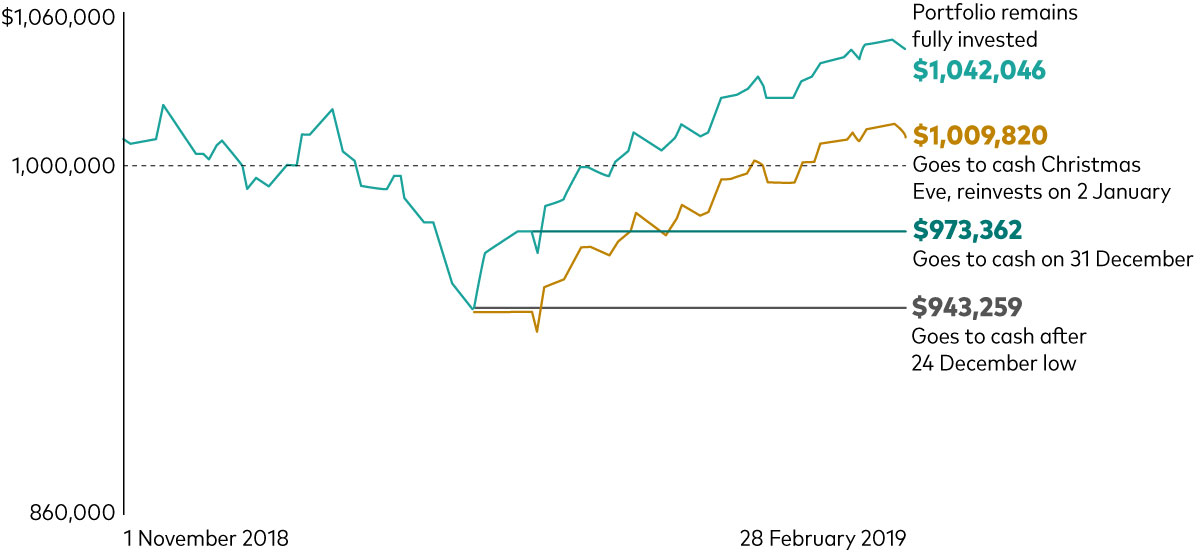 Source: Vanguard calculations, using data from FactSet. Data between 1 November 2018 and 28 February 2019. Notes: Hypothetical 60% stock/40% bond portfolio, including US stocks, global ex-US stocks, US bonds and global ex-US bonds, during and after a sharp market downturn. US stocks represented by the CRSP US Total Market Index. US bonds represented by the Bloomberg U.S. Aggregate Float Adjusted Index. Global stocks represented by the FTSE Global All Cap ex US Index. Global bonds represented by the Bloomberg Global Aggregate ex-USD Float-Adjusted RIC Capped Index. Returns calculated in USD.
The chart shows a hypothetical example of 60/40 stock/bond portfolio during and after a sharp market downturn. The portfolio was worth $1 million on the morning of 1 November 2018 and lost 5.7% of its value by 24 December. In the scenario where the investor goes to cash on 24 December 2018 and reinvests on 2 January 2019 – shortly after markets had started to recover – the portfolio would stand at $1,009,820 on 28 February 2019.
Alternatively, if the investor had stayed the course their portfolio would stand at $1,042,046 on 28 February 2019. That's a $30k reward for staying invested during a downturn.
The message here is that although withdrawing from falling markets might feel right at the time, the reality is that investors are likely to miss out on returns when markets recover – even if the market withdrawal is brief.
Perhaps one of the best things an investor can do when markets tumble is to tune out the noise. There's an old saying about never checking your account when stocks are falling and it is smart advice. As the charts above show, staying invested often pays off for long-term investors.
The charts in this article are available as part of a client-friendly PDF along with other useful graphics that can help coach investors through the current downturn. Simply visit the marketing resources section under the adviser support tab on our website, where you'll find more coaching aids and support materials.
1 Kahneman and Tversky, 1979. 'Prospect theory: An analysis of decision under risk.'