It's been a month of contrasting fortunes for the world's biggest economies with the prognosis for China improving as Covid measures unwind and recent euro-area activity data surprising to the upside, but the US and UK still on course for recession as central banks battle to contain inflation.
We have upgraded our forecast for economic growth in China to 5.3% from the 4.5% after a strong fourth-quarter performance, which comes as the country emerges from Covid lockdowns.
We had expected a bumpy, gradual exit from China's zero-Covid approach, but policymakers now appear adamant about removing all controls, even as the virus overwhelms China's health system.
In the United States, we still see a risk that higher wages could filter down into higher-than-expected core inflation later this year, even though average hourly earnings slowed to 4.6% in December. Headline consumer price inflation also slowed to 6.5% in December. Although we expect year-on-year headline inflation to continue to fall, we expect the next monthly reading to come in stronger as recent falls in used car prices moderate.
The minutes of the Federal Reserve's last policy meeting on 13-14 December show that it remains more concerned with inflation than with the possibility of an overly restrictive policy that after a lag leads to an unnecessary reduction in economic activity. We continue to expect the US central bank to push its rate-target range higher to a peak of 5% to 5.25% during the first quarter, from 4.25% to 4.5% currently, and to keep it at that level for the rest of the year. We also still think that a US recession this year is 90% likely.
When the European Central Bank (ECB) increased its main deposit facility by 50 basis points to 2% in December it forecast that headline and core inflation (which excludes volatile food and energy prices) would on average remain above the bank's 2% target through 2025. As a result, Vanguard now expects euro-area policy rates to peak at 3.5% in the second quarter, a percentage point higher than we expressed in our 2023 economic and market outlook. We also don't expect them to be cut until the second half of 2024, at the earliest.
GDP in the euro area is now forecast to contract by 0.5% to 1% in 2023, but risks to this view are skewed to the upside given recent positive economic data surprises.
The need for tighter monetary policy amid elevated inflationary pressures is also one reason we believe the United Kingdom economy will enter a recession in 2023, even though recent economic data suggests it might have narrowly avoided a recession in 2022.
Vanguard continues to expect the Bank of England's main policy rate to rise to 4.5% early in 2023 from 3.5% now, without more concrete signs of easing wage growth. The mortgage market may be the next point of pain for households after the energy-cost stresses of 2022. Vanguard estimates that, in a country where most mortgage rates are fixed for only two to five years, 35% to 40% of mortgage holders will have to reprice to sharply higher rates over the course of 2023.
The points above represent the house view of the Vanguard Investment Strategy Group's (ISG's) global economics and markets team as of 19 January, 2023. For a deeper dive into our economists' latest thinking, please read the full report.
Asset-class return outlook
The following are Vanguard's latest 10-year annualised outlooks for equity and fixed income returns1.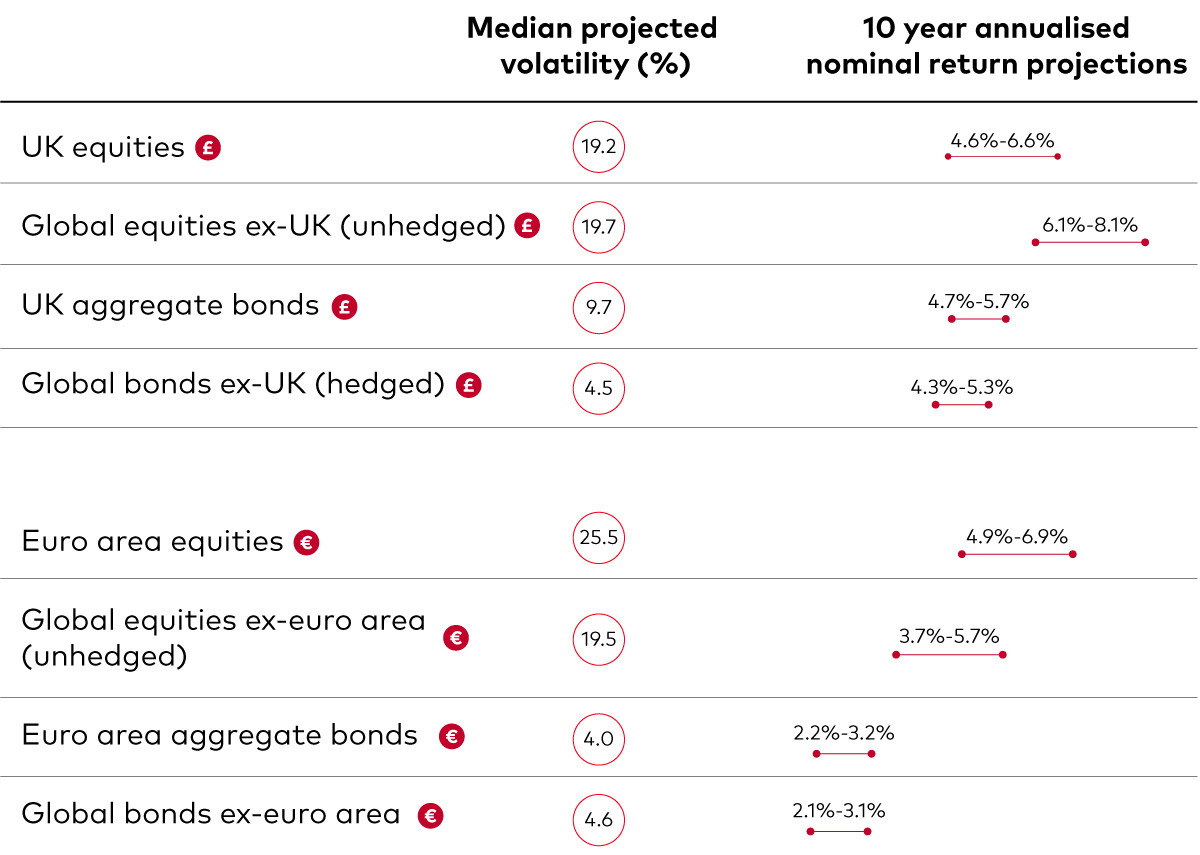 1 The probabilistic return assumptions depend on market conditions at the time of the running of the Vanguard Capital Markets Model® (VCMM) and, as such, can change with each running over time.
ISG updates these numbers quarterly. The projections listed above are based on a running of the VCMM based on data as of 30 September, 2022. Please note that the figures are based on a 2-point range around the 50th percentile of the distribution of return outcomes for equities and a 1-point range around the 50th percentile for fixed income. Numbers in parentheses reflect median volatility.
IMPORTANT: The projections or other information generated by the Vanguard Capital Markets Model regarding the likelihood of various investment outcomes are hypothetical in nature, do not reflect actual investment results, and are not guarantees of future results. Distribution of return outcomes from the VCMM are derived from 10,000 simulations for each modeled asset class. Simulations are as of 30 September, 2022. Results from the model may vary with each use and over time.