Commentary by Kunal Mehta, head of fixed income specialist team.
Fixed income markets across the board experienced a difficult month in August1 as hawkish central banks alarmed bond investors. During the first half of the month, expectations that inflation may have peaked caused risk assets to rally. However, sentiment soured midway through August as inflation concerns intensified again and rhetoric from the US Federal Reserve and European Central Bank suggested policy could be more restrictive than previously anticipated. In the UK, the Bank of England hiked its policy rate by 50 basis points (bps) to 1.75%2.
Monthly performance by market
Global government bonds
Corporate bonds
Emerging market bonds
UK
Europe
US
HY
Bloomberg Global Aggregate Treasuries (USD Hedged)
Bloomberg Global Aggregate GBP Corporate (USD Hedged)
Bloomberg Global Aggregate EUR Corporate (USD Hedged)
Bloomberg Global Aggregate USD Corporate (USD Hedged)
Bloomberg Global High Yield (USD Hedged)
JP Morgan Emerging Markets Bond Index EMBI Global Diversified (USD Hedged)
-2.48%
-6.30%
-3.95%
-2.67%
-1.15%
-0.95%
Past performance is no guarantee of future returns. The performance of an index is not an exact representation of any particular investment, as you cannot invest directly in an index.
Source: Bloomberg, 29 July 2022 to 31 August 2022. Bloomberg indices are used as proxies for each exposure.
Government bonds
In the government bonds of developed markets, yields rose significantly across the board. In the US, the yield curve continued to be inverted as yields on shorter-dated bonds remained above those on longer-maturity bonds while in the UK, yields also went up sharply and the curve flattened further. In Germany, rising short term yields—led by two-year bund yields, which rose by 92 bps—caused the yield curve to flatten, too1.
Credit markets
In credit markets, spreads were mixed. While broad credit and US investment-grade credit spreads widened marginally, European and sterling investment-grade spreads widened more drastically, by 22 bps and 23 bps respectively. In contrast, high-yield and emerging market (EM) bond spreads tightened by 5 bps and 10 bps respectively.
As the second-quarter earnings season concluded in August, fundamentals were largely defiant in the face of the worsening economic outlook2. In the US, 77% of S&P 500 constituents beat analyst expectations, with energy, capital goods and basic resources the best-performing sectors, while financials also exceeded expectations as fears of higher loan losses didn't materialise. The earnings outlook for 2023 remains uncertain, as improvements in credit metrics have now peaked, post-pandemic rebound benefits wane and macroeconomic pressures start to filter through into profit margins.
In Europe and the UK, the energy crisis has escalated over the past couple of months. Energy rationing might be required in some countries this autumn and winter, which would most impact energy-intensive industries, such as chemicals and autos, as well as indirectly weigh on the fundamentals of all sectors through reduced consumer demand and economic slowdown. There is also the possibility of government intervention in the energy and utilities sectors in some countries in the form of windfall taxes or price caps.
Credit spread levels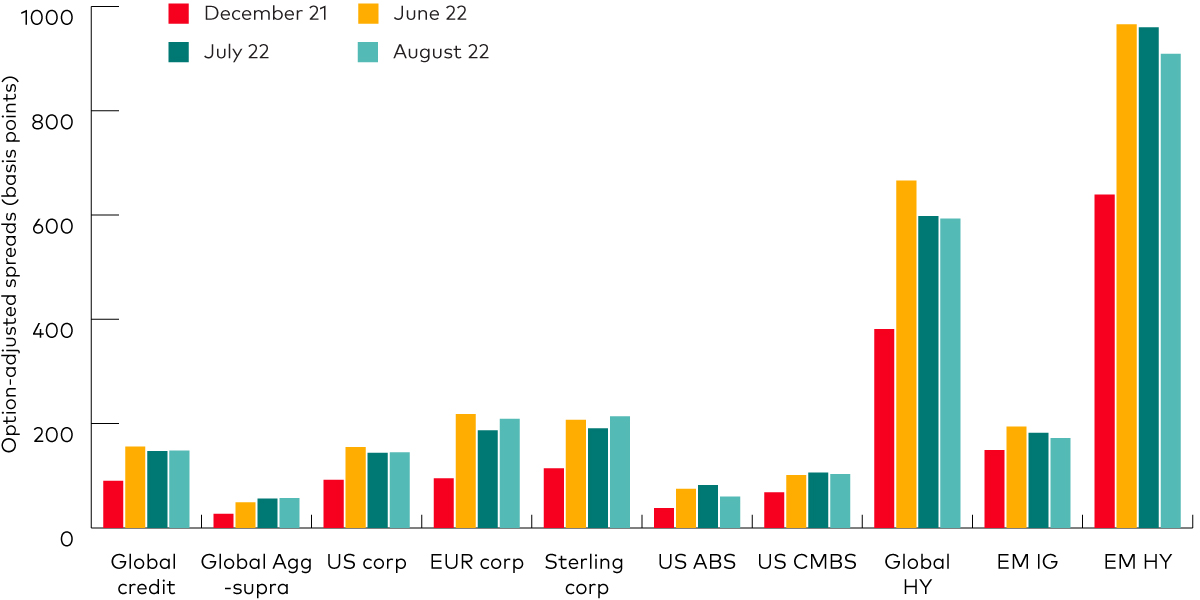 Source: Bloomberg indices: Global Aggregate Credit Average OAS Index, Global Aggregate Supranational Index, US Aggregate Corporate Average OAS Index, Euro Aggregate Corporate Average OAS Index, Sterling Aggregate Corporate Average OAS Index, US Aggregate ABS Average OAS Index, US Aggregate CMBS Average OAS Index, Global High Yield Average OAS Index. J.P. Morgan EMBI Global Diversified IG Sovereign Spread Index, J.P. Morgan EMBI Global Diversified HY Sovereign Spread Index. As at 31 August 2022.
August issuance volumes were high compared with the corresponding period last year as issuers opted to return to markets earlier than usual this year and take advantage of July's rally in spreads. Concession levels were relatively significant with issuers having to offer a premium for market access and to gain meaningful size on new deals. We expect that primary markets will continue to be very busy in September as companies front-load coming to market ahead of further rate hikes and amid ongoing uncertainty about market conditions going into the fourth quarter.
Emerging markets
While EM credit did not suffer the same magnitude of losses as most other areas of fixed income markets in August, it still saw negative total returns during the month, driven largely by the sell-off in US Treasuries. However, EM spread returns were positive for the month, at 2.4%3.
High-yield bonds were the standout performers in EM, as spreads tightened by 60 bps during the month, while EM investment-grade spreads narrowed by 14 bps. Bonds issued by Ukraine performed strongly as the country's creditors agreed to an extension of all the country's bond maturities by two years. The bonds of high-yield EM issuers Egypt, Namibia, Cote D'Ivoire and Uzbekistan also rallied during the month. In contrast, Ghanaian bonds continued to underperform.
While EM investment-grade bonds tightened only modestly overall in August, a number of names, such as Kazakhstan and India, recorded good performance during the month.
Emerging market bond spreads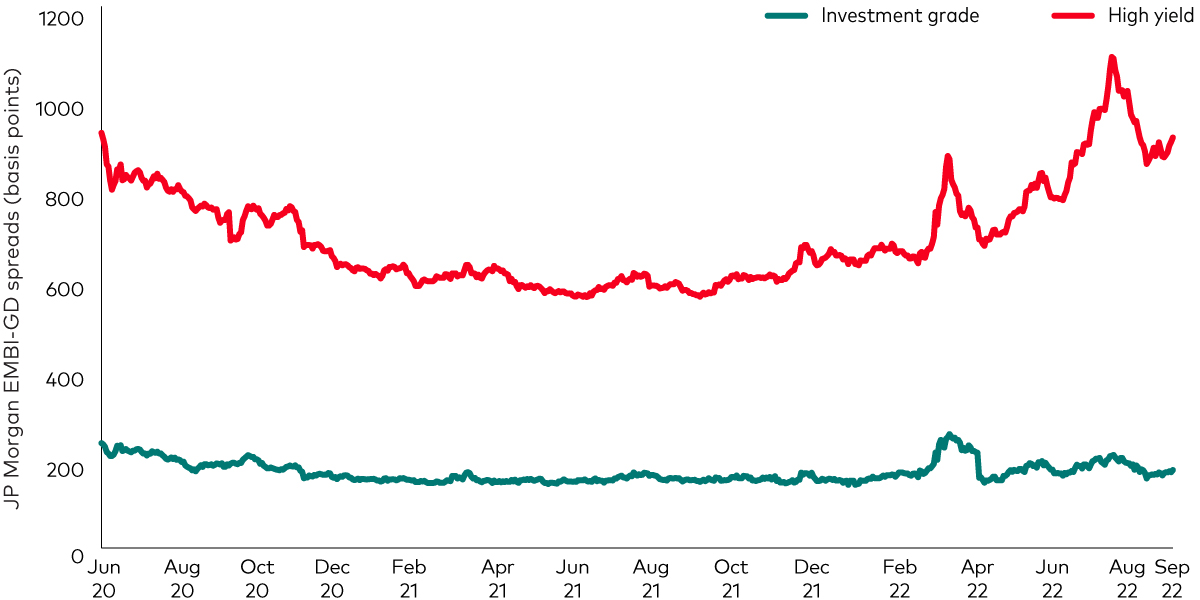 Sources: Bloomberg, JP Morgan and Vanguard, 29 July 2022 to 31 August 2022.
While EM sovereign bond supply is usually subdued in August, several names came to market during the month, including Bermuda, Mexico and Guatemala, while Serbia completed a private debt placement. A number of corporates—mostly from Asia, such as Korea Development Bank—also arranged new issues in August. After a relatively quiet year to date of primary EM debt issuance, we expect that September could well be busy.
Outlook
While the economic outlook remains in the balance, we remain cautious. In recent weeks, markets have priced in lower growth projections as well as much of the current expectations of rate hikes. Valuations have improved as recession fears have grown, offering the prospect of better long-run returns, although there could be further spread widening to come, in our view. With volatility heightened, as markets become more dislocated there will likely be a greater variety of security selection opportunities which are not subject to disproportionately large downside risks. For example, while investment-grade corporate bonds could still see further spread widening, yields are at attractive levels, and we believe that the pharmaceuticals, utilities, REITs (real estate investment trusts) and financials sectors offer particular value.
In EM bonds, the outlook remains challenging given the combination of an increasingly hawkish Fed and worsening prospects for the Chinese economy following the latest round of Covid-19 lockdowns in August. With the broad market down by nearly 20% for the year-to-date to the end of August, in our view, there are attractive entry points across the quality spectrum. Market technicals are likely to become less supportive as supply likely picks up in September, although most of the names coming to market will probably be investment-grade issuers, as we expect the largest issuance to come from countries such as China, Peru, Israel and Romania. With EM valuations attractive on an aggregate level relative to US high-yield bonds, we believe that there is particular value to be had in select bonds from the higher-quality sections of the EM high-yield market.
1 Source: Bloomberg. Returns for Bloomberg Global Aggregate Index USD Hedged, as at 31 August 2022.
2 Source: Bank of England.
3 Source: JP Morgan as at 31 August 2022.