Commentary by Kunal Mehta, head of fixed income specialist team.
Fixed income markets endured another challenging month in April, driven in part by market concerns around the prospect of central banks making a policy mistake in their attempts to tackle rising inflation. Low risk appetite was also fuelled by Covid-19 restrictions in China and the ongoing conflict in Ukraine following Russia's invasion in February.
Monthly performance by market
Global government bonds
Corporate bonds
Emerging market bonds
UK
Europe
US
HY
Bloomberg Global Aggregate Treasuries (USD Hedged)
Bloomberg Global Aggregate GBP Corporate (USD Hedged)
Bloomberg Global Aggregate EUR Corporate (USD Hedged)
Bloomberg Global Aggregate USD Corporate (USD Hedged)
Bloomberg Global High Yield (USD Hedged)
JP Morgan Emerging Markets Bond Index EMBI Global Diversified (USD Hedged)
-2.21%
-3.17%
-2.50%
-5.04%
-3.51%
-5.59%
Past performance is no guarantee of future returns. The performance of an index is not an exact representation of any particular investment, as you cannot invest directly in an index.
Source: Bloomberg, 31 March 2022 to 29 April 2022. Bloomberg indices are used as proxies for each exposure.Government bonds

Government bonds
In the government bonds of developed markets, yields moved higher across the curve in most markets. In the US, the yield on 10-year Treasuries ended the month 60 basis points higher and the Treasury curve steepened slightly. There was a similar pattern in Germany, where the yield on 10-year Bunds finished April 40 basis points higher. In the UK, yields also rose, but the yield curve flattened as the yields on shorter-maturity bonds rose by more than those on longer maturities1.
Credit markets
In credit markets, spreads widened across the board, reflecting the lower risk appetite. The Bloomberg Global Aggregate Credit average spread widened by 15 basis points in April, while spreads also widened across the corporate and emerging market (EM) high-yield segments2.
To date, first-quarter earnings have largely beaten expectations, albeit by a moderate margin. Most companies managed to pass through increasing raw material and energy costs to consumers, while the energy and basic materials sectors had a stellar quarter, propelled by commodity price tailwinds. The technology sector disappointed somewhat, as giants Amazon and Netflix reported weak revenues. Elsewhere, banking sector Q1 results were largely ahead of expectations, supported by strong sales and trading revenues and contained loan-loss provisions.
The market is now firmly focused on the second-order effects of the Russia-Ukraine conflict, in particular the looming energy crisis in Europe. While energy-intensive industries such as automotives, chemicals and manufacturing will start to feel the pinch in the next few months, ultimately this is a common headwind for all sectors. Supply chain disruptions, meanwhile, exacerbated by the war in Ukraine and also recently by Covid-19 lockdowns in China, continue to add to raw-material price pressures.
Credit spread levels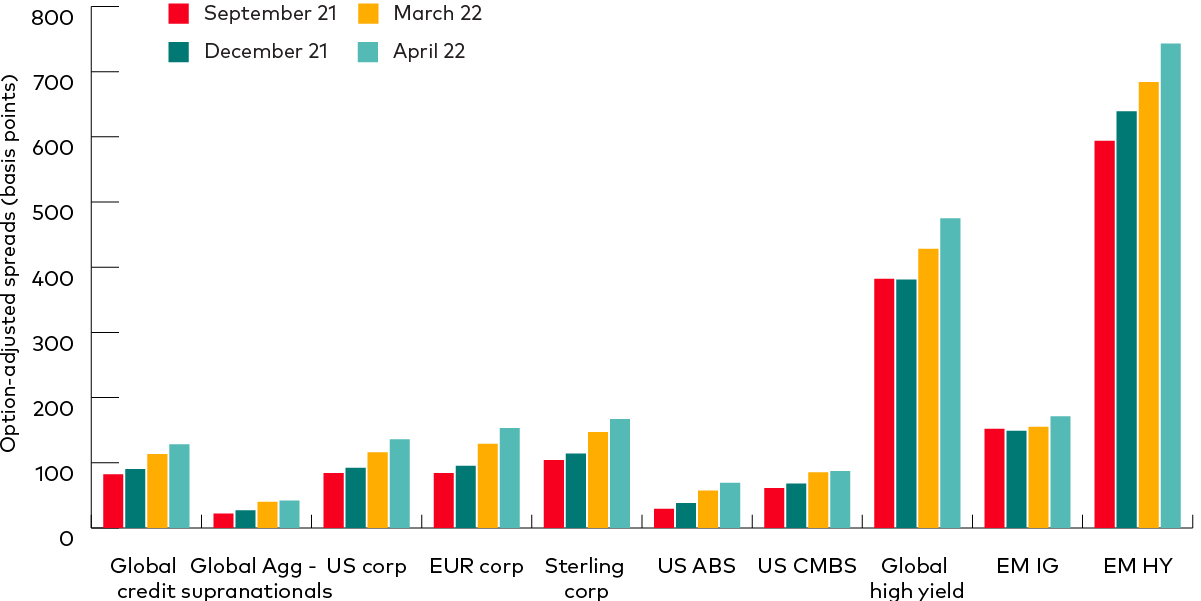 Source: Bloomberg indices: Global Aggregate Credit Average OAS Index, Global Aggregate Supranational Index, US Aggregate Corporate Average OAS Index, Euro Aggregate Corporate Average OAS Index, Sterling Aggregate Corporate Average OAS Index, US Aggregate ABS Average OAS Index, US Aggregate CMBS Average OAS Index, Global High Yield Average OAS Index. J.P. Morgan EMBI Global Diversified IG Sovereign Spread Index, J.P. Morgan EMBI Global Diversified HY Sovereign Spread Index. As at 29 April 2022.
Outflows from investment-grade funds continued in April. The Ukraine conflict, multi-year highs in inflation, the weakening macroeconomic outlook and escalating monetary policy tightening all weighed on risk sentiment.
Supply remained muted as April issuance undershot market expectations, which were already set low. In most cases, the new issues that did come to market were not well absorbed, which led to a widening of secondary yield curves. However, we expect issuance to pick up strongly once the first-quarter earnings season concludes, as issuers attempt to front-load refinancing ahead of further rate hikes. Despite the ongoing market volatility, we continue to expect that 2022 issuance will be at least in line with that seen in 2021.
Emerging markets
EMs endured a challenging month in April after a brief reprieve in March, as a more hawkish US Federal Reserve (Fed), the potential of a growth slowdown and shrinking corporate margins all weighed on the asset class. EM bonds returned -5.6% in April, attributable to a -3.8% return from US Treasury risk-free bonds and a -1.9% return from widening credit spreads. On a positive note, after tighter US monetary policy and geopolitical woes have taken their toll on EM bonds, valuations have become more attractive3.
High-yield and investment-grade EM bonds performed similarly poorly in April, while bonds issued by members of the Gulf Cooperation Council outperformed those of the broader EM universe. On a relative basis, EM investment-grade credit outperformed its US equivalent during April, with spreads tightening by 20 basis points since the start of the year.
Emerging market bond spreads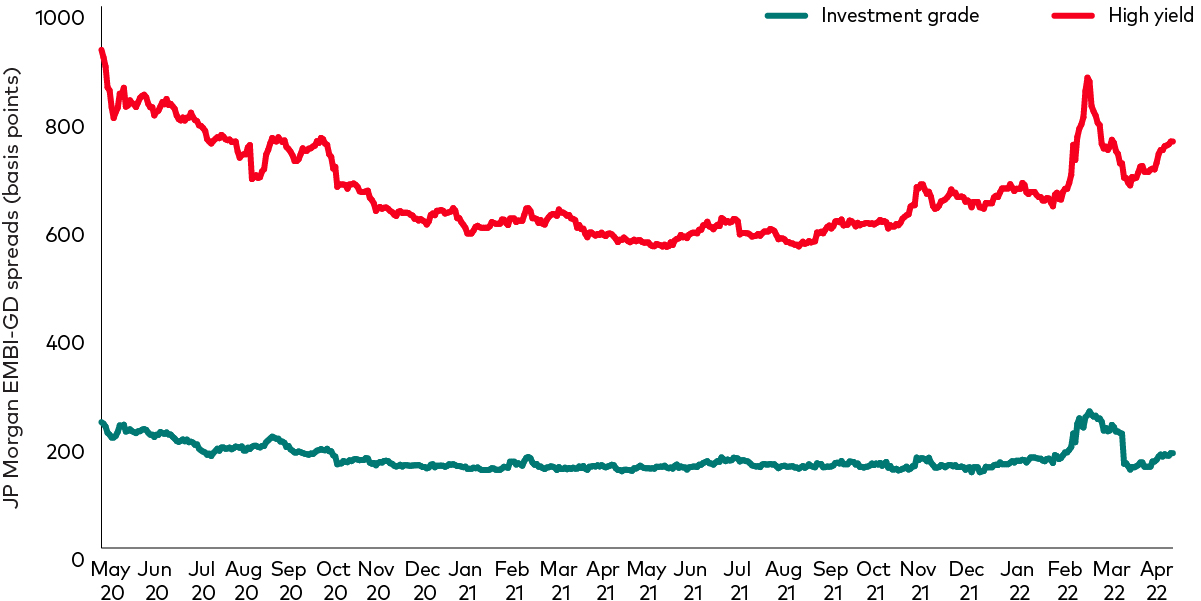 Sources: Bloomberg, JP Morgan and Vanguard, 31 March 2022 to 29 April 2022.
Technicals were supportive for emerging bond markets in April as issuance continued to be limited and outflows eased relative to the previous month. Several high-yield issuers, including Angola and South Africa, brought deals to market at the beginning of the month, contributing to a gross monthly issuance of $6.1 billion. Supply was more than offset by large coupon and amortisation payments.
Outlook
We remain cautious and hold a defensive bias amid ongoing heightened volatility – as a result, we maintain high levels of liquidity. We are constructive on credit exposure, although many of the highest-quality issuers are now priced too richly, in our view, and lower-quality issuers are vulnerable to a change in market sentiment. We have therefore continued to keep a reduced credit exposure over the last several months and are now focused on investment in credits that have upside potential based on improving fundamentals. Relative to more than a year ago, overweight positions in specific sectors, business models or credit-quality buckets offer little value in today's market.
In EMs, while the outlook has become more challenging, the spread retracement has created new areas of opportunity. In high-yield EM debt, select credits are pricing overly pessimistic outcomes, in our view, and in investment-grade EM we have identified a number of names that provide an adequate spread cushion following the rise in US Treasury yields. We maintain higher-than-usual liquidity as new issues will likely need to price in generous concessions when the primary market reopens.
1 Source: Bloomberg as at 29 April 2022.
2 Source: Bloomberg and JP Morgan as at 29 April 2022.
3 Source: JP Morgan as at 29 April 2022.