Higher fund and ETF costs generally lead to lower net client returns.
Lower-cost funds and ETFs typically outperform higher-cost solutions over the long term.
Advisers can help deliver value to clients by keeping investment costs low and enabling them to keep more of their returns.
The ongoing volatility in global equity and bonds markets, coupled with heightened uncertainty about the global economic outlook, may leave some clients feeling anxious about their investments.
But downturns, recessions and volatile markets are just part of the journey for long-term investors. Historically, markets have eventually recovered their losses and tended to move on to new heights1, rewarding investors who maintained their discipline and patience through the turbulence and bringing them closer to their investment goals.
While advisers have no control over when, and by how much markets will move, they can control how much of the market's return clients receive by focusing on their costs.
All our research and experience at Vanguard tell us that costs play a crucial role in investor success – namely that it pays to keep costs low2.
Zero-sum game theory
The importance of costs when it comes to investment success begins with the zero-sum game theory. This states that at any given time the market consists of the cumulative holdings of all investors and that the aggregate market return is equal to the asset-weighted return of all market participants.
Therefore, for each position that outperforms the market, there must be a position that underperforms by the same amount, meaning the excess return of all invested assets equals zero. The theory gives active fund managers a 50% chance of beating the market, while total-market index funds seek to replicate the market's returns.
However, the zero-sum game describes a theoretical cost-free market, which doesn't reflect reality, because investment funds and ETFs incur costs and fees that put investors at an immediate deficit relative to the average return of the market. Consequently, once costs are factored in, the likelihood of active investors beating the market by chance is less than 50%. Index funds must also overcome the cost hurdle to match the market's return.
This point is illustrated in the chart below, which shows the distribution of returns in excess of their benchmarks for all equity mutual funds and ETFs available for sale in Austria, Belgium, Denmark, Finland, France, Germany, Ireland, Italy, Luxembourg, Netherlands, Norway, Portugal, Spain and Sweden. This is net of fees, over a 15-year period to the end of 2021.
Most funds and ETFs underperform the market after costs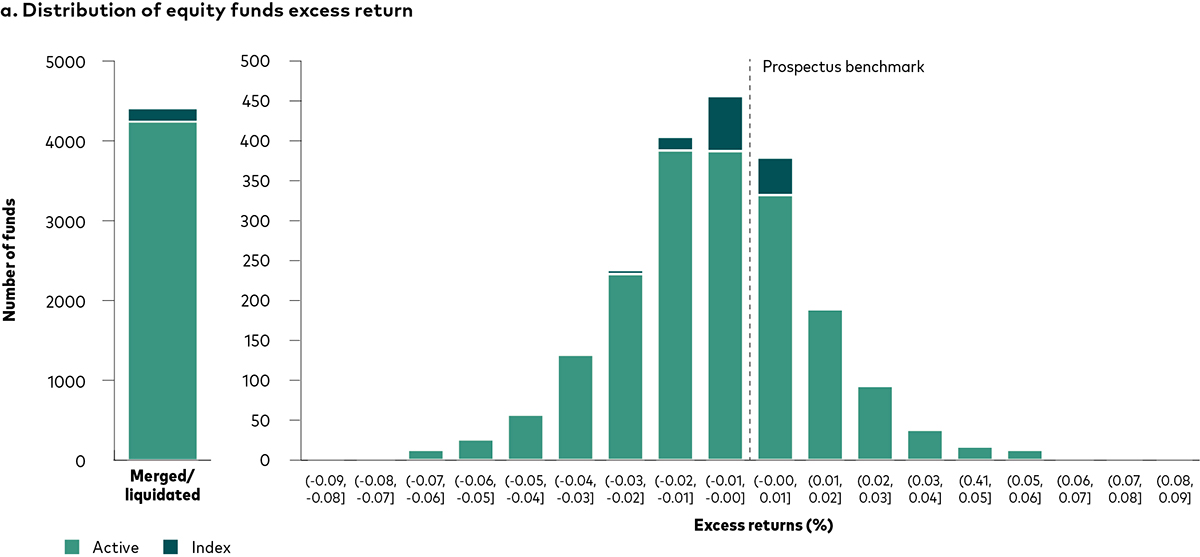 Past performance is not a reliable indicator of future results.
Source: Vanguard calculations, based on data from Morningstar. Notes: The chart shows the distribution of funds' excess returns relative to their prospectus benchmarks for the 1
5 years to 31 December 2021. Performance is NAV-based, calculated in EUR, net of fees, gross of tax, with income reinvested. Fund universe includes funds available for sale and filtered according to the description above in Austria, Belgium, Denmark, Finland, France, Germany, Ireland, Italy, Luxembourg, Netherlands, Norway, Portugal, Spain and Sweden.
The data captured in the chart above doesn't include the performance of securities held by private investors, so it doesn't provide a complete picture of the market. But the overarching message holds true, which is that most funds analysed failed to deliver net excess returns over the period.
The results were similar when we looked at domestic fixed income funds and ETFs.
Higher costs tend to diminish net returns
To get a better understanding of the relationship between costs and net returns, we analysed managers' excess returns as a function of their expense ratios across various investment sectors over a 10-year period. As expected, higher expense ratios were generally associated with lower excess returns.
The next chart offers a visual snapshot of the research using European equity funds as an example. The red line represents the average trend for index and active funds, with 10-year annualised excess returns measured by the y-axis and expense ratios measured along the x-axis.
An inverse relationship between costs and excess returns

Past performance is not a reliable indicator of future results.
Source: Vanguard calculations, based on data from Morningstar, Inc. Notes: Data between 4 January 2010 and 31 December 2021. Index funds are shown in grey and active funds are shown in red. Each plotted point represents an equity mutual fund or ETF within the specifi­c identif­ied Morningstar size, style and asset group. Each fund is plotted to represent the relationship of its expense ratio (x-axis) versus its 10-year annualised excess return relative to its stated benchmark (y-axis). The green and red dotted lines represent the linear regression, or the best-­t trend line – that is, the general relationship of expenses to returns within each asset group, for index and active funds, respectively. The scales are standardised to show the slopes' relationship to each other, with expenses ranging from 0% to 4% and returns ranging from -10% to 10%. Some funds' expense ratios and returns may go beyond the scales and are not shown. NAV-based performance; returns calculated in EUR, net of fees.
We think the research offers a clear message for investors: focus on low-cost funds and the probability of outperforming higher-cost portfolios increases. This is relevant for both index and active strategies.
Delivering value to clients
In many industries, higher costs typically equate to a better service or product, but when it comes to investing, the opposite is generally true. Higher costs eat into client returns and make it harder for investment managers to deliver value to investors.
Whether invested in an actively managed fund or an index fund, each basis point paid by an investor is one less basis point that they receive as a return. The tougher the investing environment, the bigger the proportional impact of an investor's costs on their final return and the more important it becomes to fight for each basis point.
With markets in highly volatile mood – fuelled by heightened uncertainty around inflation, interest rates and economic growth – advisers can help clients continue to derive value from their investments by helping them to keep portfolio costs low, so they keep more of their returns.
1 Source: Vanguard analysis as at 31 December 2021, based on the MSCI World Index from 1 January 1980 until 31 December 1987, and the MSCI AC World Index until 31 December 2021. Notes: returns denominated in USD.
2 Source: Vanguard. See 'Principles for investment success': hypothetical example of the growth of an initial €10,000 investment over a 30-year period, assuming 6% growth per annum, with annual costs of either 0.3%, 0.6%, 0.9% or 1.2%.